---
---
This is the low-profile air conditioner that slips over a windowsill, cooling a room while allowing in sunlight and summer sights. Unlike standard window air conditioners that can obstruct outside views and be a hassle to install, this unit rises only 4" above a windowsill and sets up with minimal effort. It efficiently cools up to 375' sq. with 8,000 BTUs of power and has a built-in evaporative dehumidifier. An included remote provides across-the-room control of temperature, three fan speeds, and a 24-hour timer. As it cools air, it also cleans with a washable, reusable air filter. Fits sills up to 11" deep. AC plug. 15" H x 18 3/4" W x 29" D. (70 1/2 lbs.)
How much of a vertical clearance does this item need?
Minimum of 16 vertical inches as this item does not come apart.
How will this item work if there is a gap in the windowsill caused by weather strips?
Mounting blocks are included with this item to help level it over the gap.
Does the item include covers for the gap if the unit isn't as wide as the window?
The item includes both short and long sliding panels to accommodate windows from 24-48 inches in width.
Do you ever need to drain moisture from the device?
The unit can dehumidify up to 34 pints of moisture in a day. It is also designed with a drain plug and tilt that should, if installed correctly, allow it to operate without the need to drain moisture, even on rainy days, as it will simply drain the moisture outside.
Will the device let in moisture on rainy days?
This device includes materials to cover all gaps in the window. The only moisture that may collect is in the base pan of the unit, and this is expected behavior.
How much noise this unit makes?
This produces 38-49 decibels indoors and 51-63 decibels outdoors.
Can I install this item in a window that is less than 16 inches?
We do not recommend using this item on windows less than 16 inches vertically.
What is the size of the exterior portion of the unit?
10.5" W x 15" H
Size Specs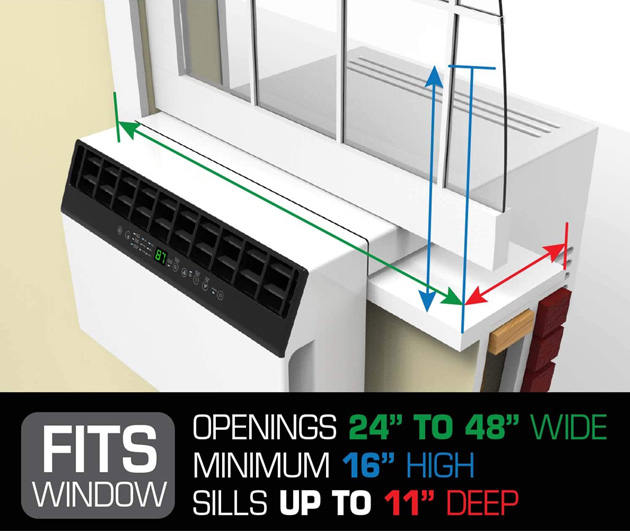 ---