---
---


WARNING

: Limited Stock Available! 

Due to COVID-19 No Restocking
THE PERFECT FALL-PREVENTION BENCH FOR THE ELDERLY
We designed the Fall Prevention Shower Bench to provide people with mobility problems a comfortable yet extremely safe bench to prevent them from falling while showering.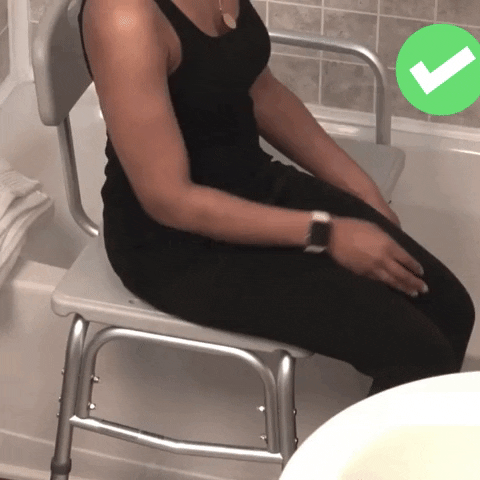 PERFECT FOR SENIORS, STROKE VICTIMS, PEOPLE WHO HAD SURGERY, AND MORE!
Being able to sit on it before you get into the tub ensures that you can safely get your legs into the tub when you slide over on the bench, rather than having to stand on one leg, lifting your leg over the tub, one at a time, where there is a greater chance of tripping on the edge of the tub & falling!
Dimensions: 
26.38" (Depth) - 32" (Width) - 18"-22" (Seat to ground)
THIS BENCH GIVES EVERYONE INDEPENDENCE & PRIVACY
Adjustable height

Drainage Holes to prevent slippage

2 Suction cups

Anti-Corrosion material

Supports up to 330lbs 

Easy to put together
WONDER WHETHER THE WATER WILL SPILL OVER THE BATHTUB?
No worries! The curtain can be tucked in the specially designed gap between the bench and the rack to prevent any water mess outside the bathtub!
Easy Assembly & Installation: The transfer bench features tool-free assembly of back, legs, and arms for seamless bath installation. The bath bench also has a pinch-free lever that allows the push pins to be depressed during adjustment with extra safety.
Reversible Transfer Bench: A sturdy A-frame design ensures this transfer bench provides maximum support while entering or exiting the bath, and can be installed with arm handle on either side to accommodate any bathtub.
Weight: 10 lbs
Material: Aluminum Alloy
Dimensions: 26.38" (Depth) - 32" (Width) - 18"-22" (Seat to ground)
---